News
Updated 17.02.2017

MIT Dresden has acquired a licence to produce Holte Electronics cable locating equipment for the german market, and Holte Electronics has been appointed official representative for MIT in the scandinavian countries.
As a visitor at BAUMA 2016 I got aquainted with the german company MIT Dresden GmbH which produces and sells eqipment for measuring the thickness of asphalt- and concrete layers and locating dowels in the expansion joints of concrete pavings. I was in Munich to find customers and dealers for Holte Electronics cable locating equipment and had brought a CB DiffAnt cable locator with me. On a stand in one of the huge halls I saw a man rolling an instrument resembling an oldfashioned carpet sweeper over a slab of asphalt. I wondererd what he was doing, and he told me that he was measuring the thickness of the asphalt slab. (The "carpet sweeper" was the measuring instrument MIT-SCAN-3T). He, on the other hand, was curious about my cable locator that was hanging in my girdle. This is how our acquaintance started. I was invited in for a talk with the director, Andrea Ulbricht. We got very well along with each other, and since we have been in unbroken contact, and the man with the "carpet sweeper", Matthias Herold, has been in Kongsberg to learn how to build cable locators.
Stian Holte
Cooperation with Anix GmbH

www.anix.biz

In February 2017 Holte Electronics AS has also started a cooperation with Anix GmbH (equipment for measuring flatness and load carrying strength of road pavements).

MIT-Dresden, Anix and Holte Electronics are going to have a common stand on the road technology exhibition "Vei og Anlegg" (Roads and Civil Engineering) in May 2018.

See CB DiffAnt prototype being used in Germany:

Short video from Michael Wohlfahrt

Michael Wohlfahrt is a german civil engineer using a CB DiffAnt prototype since 2014. The cable locator is in frequent use, and he reports having great benefit from it. The bright tone is due to the very high signal strength in his area.
Demonstration of
MIT-SCAN-3T
30. August 2017

Pictures from the demonstration on the exit from E134 to Darbu (near Kongsberg). Matthias Herold demonstates MIT-SCAN-3T.
On august 30. 2017 MIT Dresden and Holte Electronics held a common seminar at the E134 project office of Vegvesenet (the norwegian road and traffic management authority) in Kongsberg. The seminar was terminated with a practical demonstration on the new exit from E134 to Darbu (near Kongsberg), where I had the opportunity to place some reflectors (small aluminium disks) to measure on in the asfalt during the paving prior to the summer vacations. (Credits to the local project manager Jan Tore Andreassen from HAG.)
Stian Holte
Holte Electronics on VDBUM-conference in Kassel 2015
During the time from the 24. to the 27. of February 2015, Holte Electronics was an exhibitor at the VDBUM (Verein der Deutschen Baubrganche, Umwelt und Maschinentechnik) in Kassel.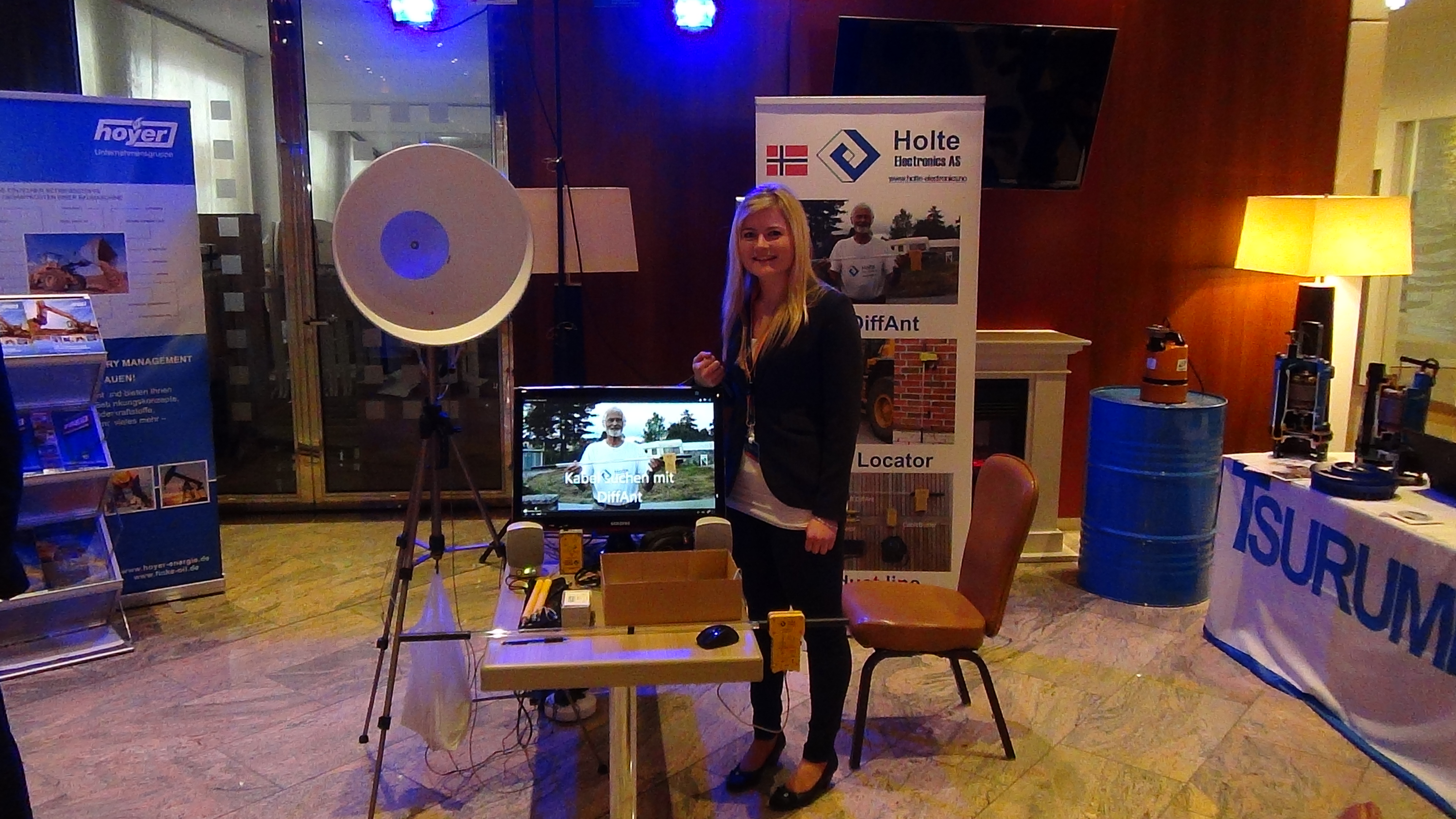 Charming lady visit on the stand in Kassel
Stian Holte
Exhibition in Bremen fall 2016


The picture shows the shared exhibition stand of MIT Dresden GmbH, Anix GmbH and Holte Electronics AS at the FGSV-conference in Bremen 28-30 September 2016.
End of September 2016 Holte Electronics was a co-exhibitor at the exhibition in connection with this years FGSV (Research Association for Road Technology and Traffic Management) conference, this year in Bremen, together with MIT Dresden GmbH and Anix GmbH that offers equipment for measuring flatness and load carrying strength of road pavements.
MIT has been granted a licence for production of Holte Electronics cable localizers for the German speaking market.
Stian Holte
Test under severe concitions in Germany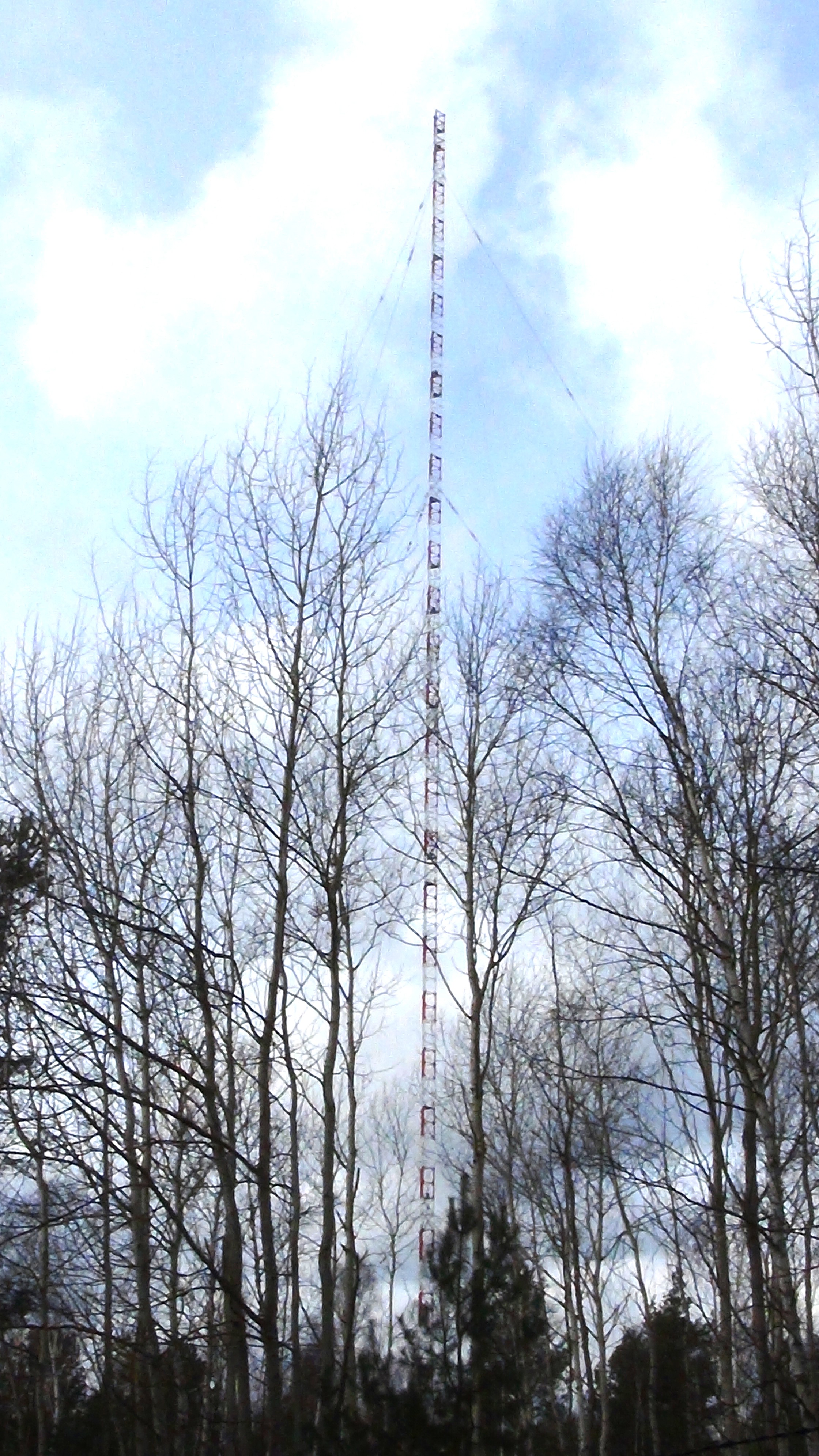 DCF39
Burg
DCF49
Mainflingen
Above:
DCF39 and DCF49 Antenna towers

After the exhibition in Kassel end of February 2015 I made a round trip in Germany to visit old friends and test the cable locator at challenging places.

CB Diffant did work properly even in close proximity of the antenna towers of two strong long wave transmitters within its operating frequency range (DCF39 near Magdeburg and DCF49 near Aschaffenburg) that have earlier caused severe problems. The strong signals totally jammed the original little CableBuster in Germany. This was the reason for developing CB DiffAnt. The result was even better than expected, and I can say with confidence:
CB DiffAnt works everywhere!
Stian Holte